The 2nd TSUKUBA Lecture on Constitutional Law "The Japanese Constitution and Diplomacy" was held.
2022年1月24日

On Friday, January 21, 2022, Mr. Motohide Yoshikawa, Distinguished Professor at International Christian University and Former Japanese Ambassador to the United Nations, gave a lecture titled "The Japanese Constitution and Diplomacy" in English at the 2nd TSUKUBA Lecture on Constitutional Law* (organised by the School of Social and International Studies, supported by Undergraduate Common Foundation Subjects Subcommittee). This lecture was moderated by Assistant Professor Hajime Akiyama, Faculty of Humanities and Social Sciences.

In his lecture, he introduced various articles of the Constitution of Japan, from the preamble to the emperor system, peace, and government structure, and explained in detail which articles are related to diplomacy in the Japanese Constitution and how they can be interpreted, using his experience as a diplomat. After that, he described about Article 9 of the Constitution regarding the renunciation of war and Article 73 of the Constitution regarding approval of the Diet for the conclusion of the treaties referring to specific issues and events.
 In the latter half of the lecture, a Q&A session was held, and there was a lively exchange of opinions on international affairs and Article 9 of the Constitution.

Many students including graduate students regardless of their colleges or nationalities and faculty members attended the lecture. Some students said, "I attended the lecture without any prior knowledge, but I was able to understand the Japanese Constitution well." "I want to learn more about the Constitution and think about it." and "The lecture from the perspective of an ambassador deeply involved in the Constitution was very helpful."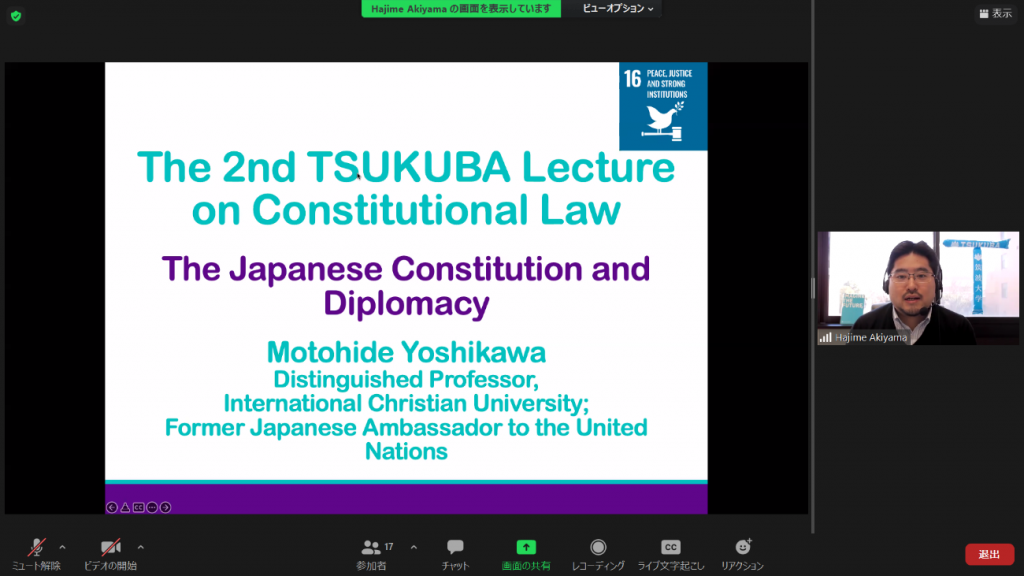 By analyzing the Constitution of Japan from the perspective of diplomacy, we learned that new interpretations and discussions are possible, and it was a valuable opportunity for us to think about the issues in the Constitution and how Japan should behave.
Written by Hikaru Akuzawa, a third-year student, College of Social Sciences
* TSUKUBA Lecture on Constitutional Law
This lecture series is designed to bring diverse perspectives to students at the University of Tsukuba, where students from different specialties gather, and to provide an opportunity to learn about constitutional law. Some lectures are held in Japanese, and some lectures are held in English. TSUKUBA Lecture on Constitutional Law covers issues related to SDGs. The 2nd lecture was related to Goal 16: "Peace, Justice and Strong Institutions."